Our practice accepts insurance from the following companies.

MetLife
MetLife offers our Chicago area patients a range of competitively priced dental insurance benefits plans for companies of all sizes.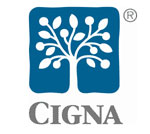 CIGNA
CIGNA offers a variety of dental plans and dental insurance to our Chicago area patients, including CIGNA Dental Care (DHMO), CIGNA Dental PPO or CIGNA Traditional.

Aetna
Aetna is a national leader of health and related benefits offering dental insurance to our Chicago patients, as well as health insurance, pharmacy, and life insurance products for individuals, medicare insurance and disability.
Implants - the alternative to dentures
If you are missing one or more teeth, you'll want to talk with Chicago area dental implant dentist Dr. Donald Bennet about replacements that look and feel as natural as your own teeth. If dentures are causing you problems, you may consider dental implants. Unlike dentures, which can be removed, Dr. Bennet offers dental implants that are permanently anchored into the jaw itself.
We accept Aetna Dental® insurance
Donald Bennet, D.D.S., in the Chicago area accepts Aetna Dental® insurance. At Lake Dental Care, our friendly team will be happy to file your insurance claim for you.
We want to make your dental treatment as affordable for you as possible. Your long term oral health is our primary concern.
Sleep dentistry for stress-free care
Sleep dentistry offers a relaxing and virtually pain-free dental experience. You'll have little or no memory of the entire visit. If you would you like to experience quality dental care without feeling nervous or uncomfortable, sleep dentistry may be right for you.
Maximize your dental insurance benefits
At Lake Dental Care we aim to maximize your insurance benefits and make any remaining balance easily affordable. Chicago area dentist Dr. Donald Bennet and his knowledgeable staff can help answer any of your insurance questions.
We accept most insurance carriers. Please check with us prior to your appointment, but it's safe to say we likely accept the type of insurance you carry.
Removable braces
Removable braces are almost invisible and you can take them out to eat and brush your teeth. If you want braces that are effective, but can be conveniently taken out for certain occasions, Chicago area braces dentist Dr. lastname may suggest that removable braces are the best option for you.